Notre Dame Library curators and conservators have collaborated on Compendium Animalium, a facsimile of an early modern book combining images from several volumes featured in a recent exhibition, complete with engravings, wooden boards, and leather bindings, that students can hold and investigate.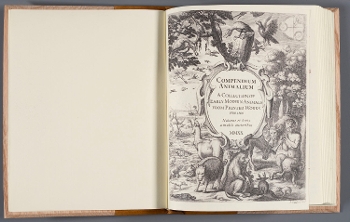 Compendium Animalium
Image by Jen Hunt Johnson
When the University of Notre Dame's Hesburgh Libraries mounted "Paws, Hooves, Fins, and Feathers: Animals in Print, 1500–1800," an exhibition featuring animal-themed items from its Rare Books and Special Collections, the curators hoped to share the contents with students from local grade and high schools. Erika Hosselkus, curator of Latin American Collections, and Julie Tanaka, curator of special collections and Western European history librarian, wanted it to be a hands-on experience—but the rare books featured in the exhibition were too fragile to allow students, especially younger ones, to handle.
"We wanted to invite schools to bring classes in for exhibit tours, but we know that's not always feasible," Hosselkus told LJ. They considered bringing some of the rare materials to share in the schools, but taking items out of the libraries' special collections presented other issues. Instead, suggested Tanaka, what if they created something students could examine at close range?
Hosselkus and Tanaka took their question to members of the library's preservation department, Special Collections Conservator Jen Hunt Johnson and Gladys Brooks Conservation Fellow Maren Rozumalski. "We knew it was kind of a big suggestion, and we weren't sure if there was the time to do it, or the resources," recalled Hosselkus. But Johnson and Rozumalski were game, and together they decided to create Compendium Animalium, a facsimile of an early modern book combining images from works featured in the exhibition, complete with engravings printed on heavyweight paper, wooden boards, and leather bindings, that students could hold, smell, and investigate.
"ITS OWN CREATION"
Once project was approved, Hosselkus, Tanaka, Johnson, and Digital Project Specialist Sara Weber met to decide what their facsimile would look like. They discussed which images they would pull from the exhibition materials—deciding on approximately 100, with one foldout image printed and sewn in separately—and how to scale them to fit a single volume, whether to incorporate text, and what kind of paper to use. "We struggled all along with what to call it," Hosselkus noted; it wasn't a reproduction, as it compiled images from a number of different texts, so they settled for describing it as a facsimile. "It's sort of that," she added, "but it's actually its own creation."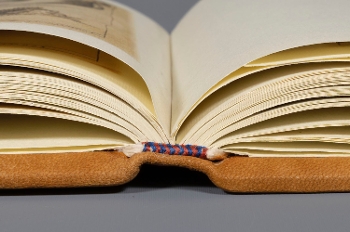 Facsimile book binding, end band
Image by Maren Rozumalski
For instance, they decided that the book's binding would be based on gothic wooden board style, which was representative of most—but not all—of the works in the exhibition. "We ended up choosing this wooden board binding because it has so many of the components that we thought would be so interesting to share," said Hosselkus. People rarely get a chance to handle original books like that, she noted, "so feeling what it's like to have wooden boards—those boards are sewn under the leather—all of those components that you can experience in holding the book, we thought would be probably one of the more interesting choices we could make."
Compendium Animalium took shape over the course of several meetings—and then the pandemic hit, which proved to be both a challenge and an opportunity to focus on the book.
"On my side, COVID both helped and hindered the process," Johnson told LJ. "Trying to prioritize this project in the midst of other treatment projects that we're working on in the lab was a bit difficult, but then when COVID hit I couldn't do treatment in our lab anymore, so having this facsimile to work on from home was actually really great." Working out of her living room, however, was not Johnson's ideal book-building setup.
"I had to get creative with some of the equipment that I had at home, and experiment with different ways to work on things," she said. "At one point I brought a patio table into my living room and was trying to use that as a support as I was shaping the boards." A 12" x 12" granite tile served as a book press.
Materials were harder to source during the pandemic, noted Johnson—"Normally I would go to the lab and look for things that we might already have in stock, but I ended up having to mail order a number of things." Aside from the leather used for the binding, the most significant cost was the printing, she said. Weber photographed the images that Hosselkus and Tanaka selected and designed the layout; printing costs came out of the original exhibition budget.
In addition, because she and Rozumalski were each working separately, said Johnson, she needed to make adjustments once she had both portions so that they would fit together. "It was probably more challenging than it might have been in the lab," Johnson admitted, "but at the same time kind of fun, and certainly motivating to have something like that to work on at the time."
For those who were following the process, the team created a series of blog posts about building the book. "We saw this also as an opportunity," said Johnson. "This book highlights the work that conservation does and it's also this really nice opportunity to collaborate with our curators in a different way."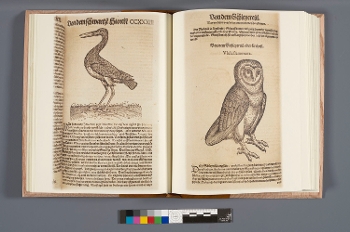 Compendium Animalium
Image by Jen Hunt Johnson
MISSED PROGRAMMING, FUTURE OPPORTUNITIES
Hosselkus and Tanaka planned a range of programming around the facsimile, including an event for first and second graders in collaboration with the Snite Museum of Art on campus; a weekend partnership with the Potawatomi Zoo, which would have brought in some of the animals featured in the exhibition; a discussion for middle and high-schoolers about book making; and a panel with partners from Notre Dame's Museum of Biodiversity, the local Audubon Society chapter, and an art history professor from St. Mary's College.
Because of the pandemic-related shutdown, however, the exhibition was ultimately taken down before the facsimile volume was completed. Hosselkus created a digital version of the exhibit after the library closed, which included a preface about what had been planned before the pandemic—both for her own satisfaction, she told LJ, and as a record of the effect that COVID-19 had on projects like this one.
Johnson still considers it a success, and would gladly take on another project like it. "I thought it was a great idea—I loved that our curators came up with that and brought it to us," she said. "I think conservation really struggles in a lot of ways with trying to get out there and get people to know what we do, and why it's important. To actually recreate an object that people can handle and touch…that really conveys why these things are so interesting. You can communicate in a way that you just can't communicate by explaining the process, or showing pictures of it."
"We continued to think of ways we could use it as we were making it," added Hosselkus. "It seemed pretty specific to the exhibition at first, but now we've realized by creating it that it's going to have more use than just one exhibition." Compendium Animalium has been added to the libraries' special collections.